VITA Accelerator Mentors and Experts: Who you can expect to meet when joining our Acceleration Program
From the very early days of the VITA Accelerator Program, our aim was to provide tailored and hands-on digital health support for startups, going deep into practical aspects of building a digital health product, planning market access and so on. We thought about it as a clear differentiation point against generalist programs and we worked hard in order to achieve this goal and therefore invite the best Italian and international mentors to help the VITA startups.
After the Demo Day of the 2022 Program where we shared more insights about how the VITA Program is organized, we decided to let you meet some of our mentors and experts who dedicated their time to deliver sessions for the VITA startups.
Throughout the 22 Program, we leveraged more than 50 mentors, 15 of them being international experts based in the Netherlands, Finland, USA, etc. and the rest coming from Italy.
VITA Advisor & Fundraising Mentor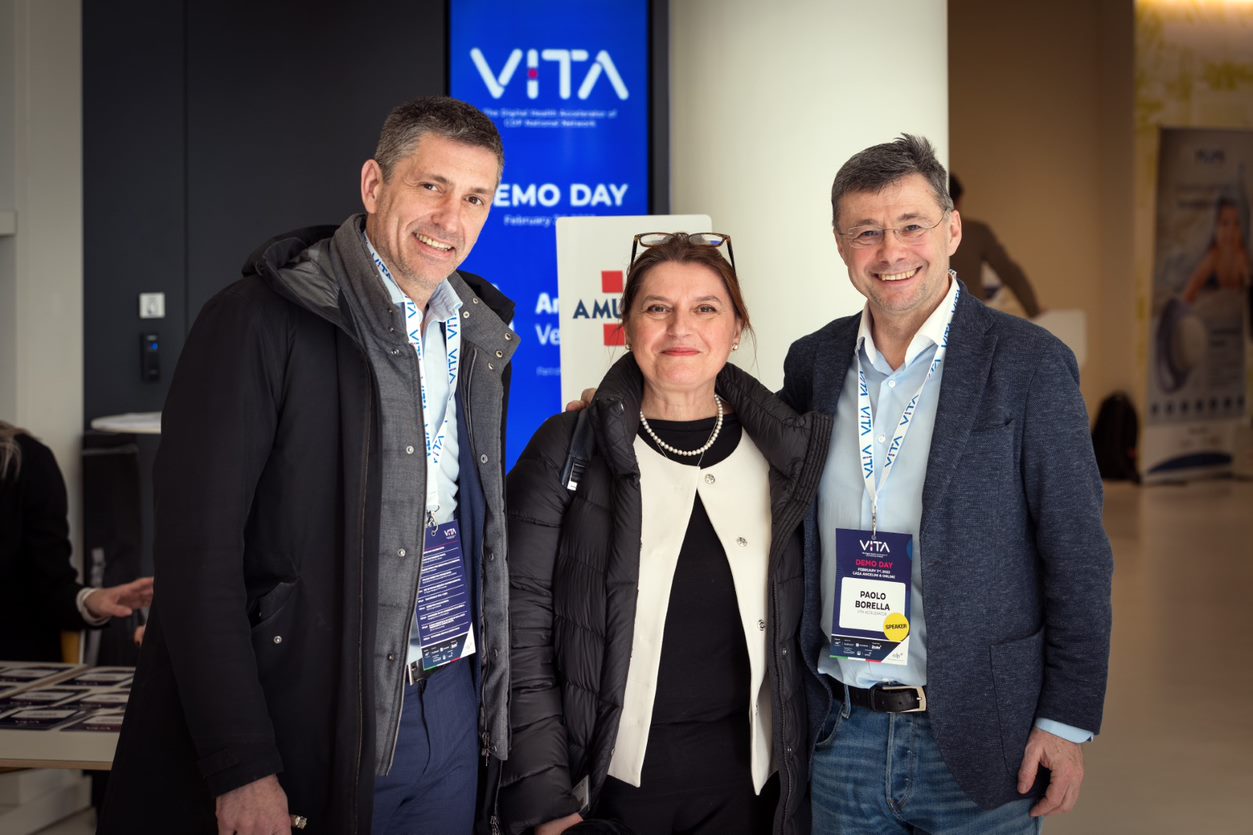 Alessio Beverina, Founder and Managing Partner of Panakes Partners, the largest VC firm in Life Science in Italy, is one of the most well-known health investors in the country. He has actively invested in startups across Europe, with a key role in several successful growth stories and exits, including IPOs and trade sales.
VITA is proud to have Alessio as an Advisor of the program, supporting the accelerator with his strong network and hands on digital health expertise. Alessio is a frequent guest of VITA networking events, and we are particularly happy that he offers 1-1 mentoring for the VITA portfolio startups.
"VITA is a key enabler to foster the development of early-stage companies in Italy in the digital health sector: by interacting with high level mentors, corporates and investors, all in their sector of expertise, the selected and supported teams will be able to take the right directions and decisions, for their next phase of development", - commented Alessio. To learn more about how VITA organizes fundraising mentorships, read the article here.
Go-to-market and Founder-to-Founder mentoring
At VITA we believe that founder-to-founder exchange and mentoring is of great value to our startups as they can discuss their 'pain points' with someone who had a first-hand experience in building and scaling a digital health company.
Alessia Morichi, an Italian startup founder based in San Francisco, is one of the 'founder-mentors' at VITA. After leading the US launch of an FDA-registered class I medical device for fertility in 2020, she co-founded Rita Health - a digital fertility assessment startup for women to early detect factors that need attention or improvement.
"In California the conjunction between the private healthcare system and the obsession with improving health quality and longevity, led to a vast network of healthcare startups that leverage cutting edge technologies to provide people with better and faster care. My dream is to bring innovation and a renewed vision to the Italian ecosystem, by enabling the work of incredible entrepreneurs and founders that every year have the courage to believe in their new ideas. Last year, when VITA launched its program with the goal of supporting the new generation of digital health startups and strengthening the Italian ecosystem, I felt that was exactly what I wanted to contribute to. Therefore, I was excited to join as a go-to-market and marketing strategy mentor and share my learnings with the incredible VITA startups", says Alessia. - "All the startups selected for the first VITA cohort were high profile companies with MVP and early tractions of their products. It was so impressive to acknowledge what they achieved with limited funds and resources and how they were able to amplify and strengthen their work thanks to VITA. I hope this will be just the first chapter of a new era for the Italian startup industry, with new companies attracting attention and capital to create a more advanced healthcare system".
Product Development in Digital Health
Another area where VITA Accelerator is offering its support to the startup founders is Product & Technology. Among the topics we cover there are Scientific Evidence for Digital Health Startups, Data Strategy, Behavioral Design, Product Development Frameworks and so on. For the Product Stream of our Program, we are proud to have the support of experts such as Nicola Mattina, who is a serial entrepreneur that has a track record of selling his company to the subsidiary of Apple, angel investor and product manager teaching entrepreneurship, innovation and product management at University Roma Tre.
Together with Francesca Sgambato, Product Manager at Paginemediche, Nicola held a session for VITA on product development and covered a real case of a digital health product: 6 months of work presented in 1 hour.
"As an entrepreneur, I have seen firsthand how important it is to have access to the right resources and support startups early in their journey. The VITA Accelerator program is an excellent example of how such support is offered to the entrepreneurs in the digital health area. The session on product development that I co-led with Francesca Sgambato was the opportunity to distill months of work in one session and guide the participants step-by-step through the journey of bringing their digital health products to the next level".
GDPR in Digital Health
One more key topic connected to the Product Development is data protection. Here VITA is delighted to have the support of Jovan Stevovic, CEO and Co-Founder of Chino.io, a company that since 2015 has been helping digital health startups, scaleups and companies from around the world to ensure privacy compliance and demonstrate trust for their products.
Chino.io combines legal-tech expertise, and tech solutions to help companies solve compliance challenges. It supports companies on GDPR, HIPAA, DTx reimbursement processes such as DVG in Germany or DTAC in the UK, and other health related regulations.
Jovan delivered a session at our accelerator on how Digital Health Startups should consider GDPR in their roadmap, covering topics such as data security, anonymization, pseudonymization, consent management, etc. He also shared a number of business cases from his experience and spent quality 1-1 time with the VITA startups.
"The session was a great opportunity to be back in Italy and get to know the bright cohort of digital health startups. Congratulations to the VITA team who goes so deep into the digital health-specific topics during their Program and is focused on offering real hands-on help to their teams."
Medical Certification (MDR)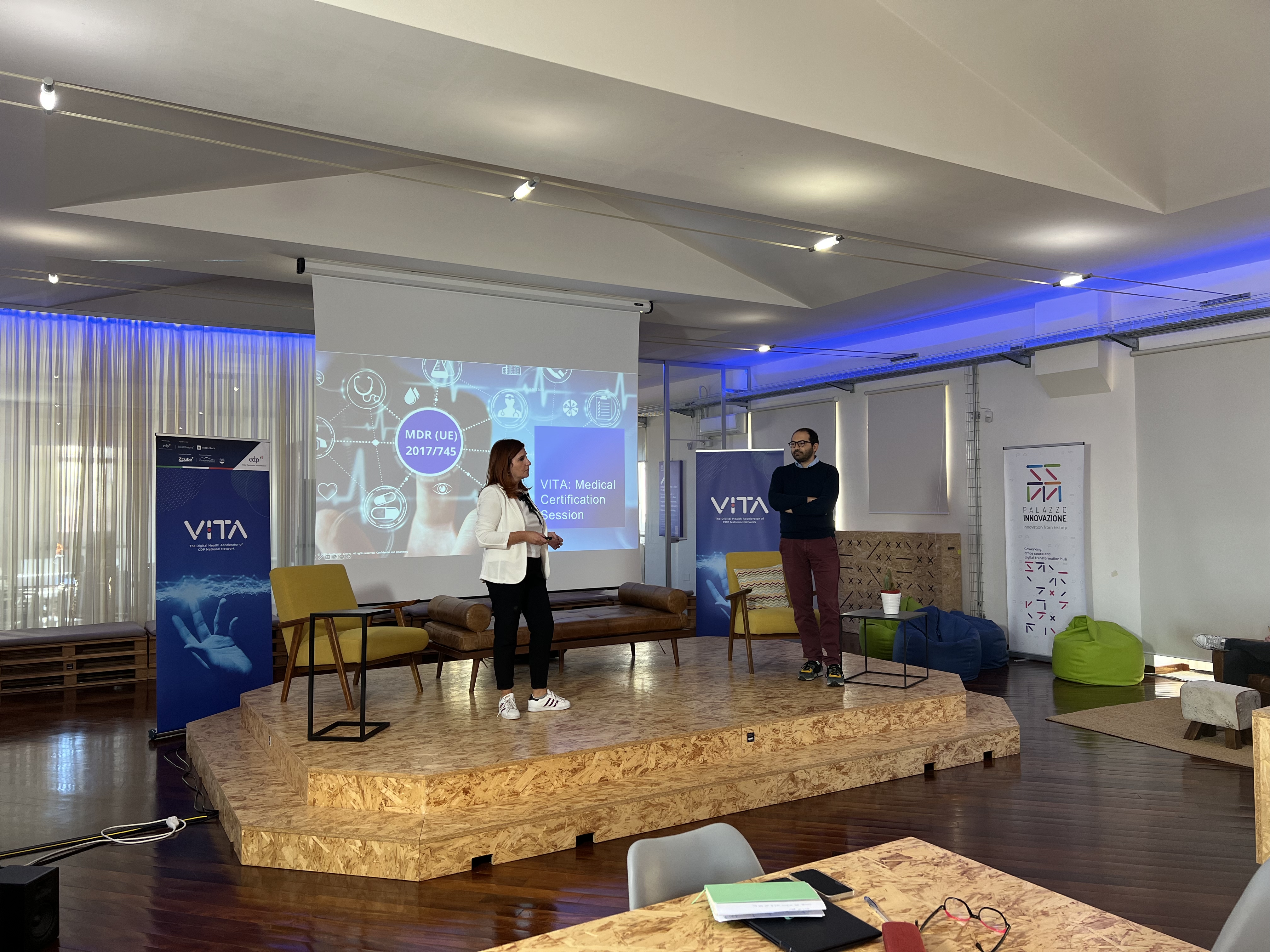 Maria Rosaria Palladino, Head of Studio & Compliance at Healthware Group brings solid expertise in complex global transformation programs, having worked in senior management roles in compliance & performance management projects, leading ERP solution implementations and similar. Maria Rosaria has first-hand experience in creating and executing the medical certification (Regulation (EU) 2017/745) of digital health products such as Amicomed ,and MDR & FDA certification of many other digital health products across different countries.
During VITA mentoring sessions in Salerno, together with Raffaele Aulisio, Head of Engineering at Healthware, Maria Rosaria provided an extensive overview on the approach for MDR Certification for Digital Health startups and shared a real-world business case. This mentoring was instrumental for several VITA startups to shape their strategy and work toward achieving MDR certification for their solutions.
Corporate – Startup Collaboration
A separate track of the VITA Program is dedicated to facilitating pilot projects between startups and our Corporate Partners with the aim to deliver value to both sides: help startups scale and bring their solutions to more patients as well as support and speed up innovation development for corporates.
VITA encourages startups to apply to the program with concrete proposals that address the Innovation Challenges of our Corporate Partners. During the selection process we review and validate the proposals and match the most promising ones with the relevant Partners. Once the program has kicked off, we select one or more projects proposed by the participating startups and facilitate collaboration efforts to shape and execute pilot projects. We follow a specific methodology that is co-developed by VITA and Sasha Tråp, an expert on collaboration programs from Finland.
"VITA Accelerator invited me to help compile a startup-enterprise collaboration program that would structure the process of negotiations between the VITA startups and their Corporate Partners and result in the execution of pilot projects. I have leveraged collaboration methods that I have been using extensively in my work in the sector over the past 6 years, mostly in the Nordics countries. It has been exciting to try this approach in Italy, where the structure of the healthcare business is shaped in a different archetype. There are plenty of opportunities that Italian startups can bring to the market and I'm happy to be a part of helping them find corporate support for growth."
Sustainable Growth of the Deep Tech Startups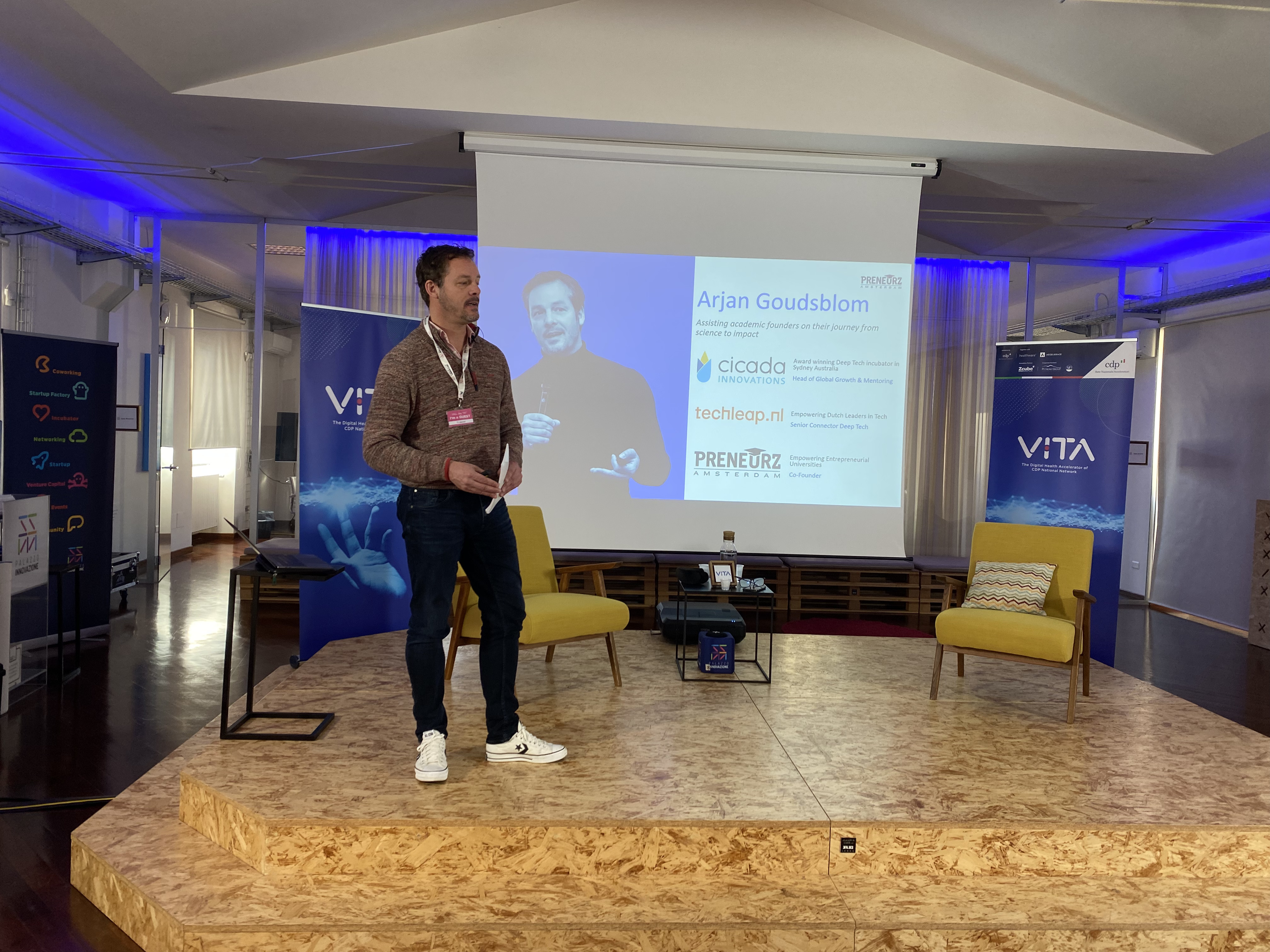 One of the sessions, held at the end of our Program to summarize many of the learnings and put them together in a structured way, is focused on Sustainable Growth.
Arjan Goudsblom is an expert in entrepreneurship and, in particular, in deep tech startups and research spinouts. Arjan comes from the Netherlands but has worked and lived in Australia for many years, serving as Head of Global Growth and Mentoring at Cicada Innovations Incubator in Sydney, voted 'Best incubator in the world'.
In the Netherlands Arjan was part of the team launching Faculty of Impact: a new program in the Netherlands for PhD's and post-docs with an ambition to explore the possibilities of starting a spinout in combination with developing their research. As a result of the program, a standard deal term agreement was developed and accepted by most Dutch universities that benefits researchers and provides a framework for negotiations on IP for the spinouts. Here at VITA we think that such international expertise would be very relevant to help commercialize Italian research.
Arjan came to Salerno to deliver a session on the Growth Strategy for startups and also share his experience of working on the digital health projects with the Dutch Ministry of Health as well as other cases he worked on with his own company Preneurz.Amsterdam and as a part of Techleap.nl, a public organisation in the Netherlands dedicated to assisting startups and scale-ups.
Of course, no article can be long enough to pay tribute to all VITA mentors. We are incredibly thankful to all the experts who contributed to the VITA sessions on other equally important topics.
If you are interested to hear more about other experts, check out the VITA Linkedin page where we publish updates about each session of the Program.
Excited about the opportunity to meet our mentors? In this case, check out our Open Call for Submissions, active till April 17th and apply for the VITA 2023 Program!